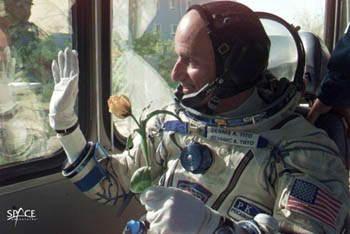 Dennis Tito waves to his family and friends from the bus
transporting him to the launch pad - photo courtesy Space Adventures
THE WORLD'S FIRST SPACE TOURISTS
The world's first "tourist" was American businessman Dennis Tito. He is reported to have paid Space Adventures $US20 million to be blasted up to the International Space Station (ISS) on a Soyuz spacecraft in May 2001.

South African businessman Mark Shuttleworth's flight took place in April 2002 - he is believed to have paid $20-25 million to become the first African in space.
Greg Olsen was the third private citizen to travel to the ISS, while the fourth - the world's first female space tourist, Anousheh Ansari - completed a 10-day orbital mission in September 2006.

Former Microsoft man, billionaire and master programmer, Charles Simonyi, became the world's fifth space tourist in April 2007.